The CoveredCalls.com Covered Call Calculator is designed to help you find the best Covered Call to write as quickly as possible. Period.
"...other covered call calculators are like the headlights illuminating your financial road. The CoveredCalls.com Covered Call Calculator is the High Beams!"
FEATURES:
Enter Stock Price, Strike Price, and Option Price data as fractional or decimal values
Model multiple financial plays in seconds
Calculate all commission fees
Calculate Margin charges
Instantly recalculate if options are exercised
View calculated Results in either an expanded or abbreviated view
Print your comparative scenarios as viewed in the Results box
Print your comparative scenarios in spreadsheet format
Save multiple call scenarios for later comparison and analysis
On-the-fly recalculations by the "intelligent comparative calculation engine" with any changes you make that will affect your percent return or actual cash profit
Model scenarios for writing calls 12 times per year, 8 times per year, 6 times, 1 time, 26 times, it doesn't matter. The calculator is extremely flexible!
Enter your Age and calculate time until $1,000,000
No more extra guess work of "I think this could be my profit." You will see your possible profit in detail and you will see now!
See what you'll have at retirement age. (These numbers are crazy! They beat mutual funds retirement balances my millions!)
See your account balance in one month, one year, two years, three years ahead. You'll know what to expect down the road.
No other covered call calculator even comes close to the value and features of the CoveredCalls.com Covered Call Calculator.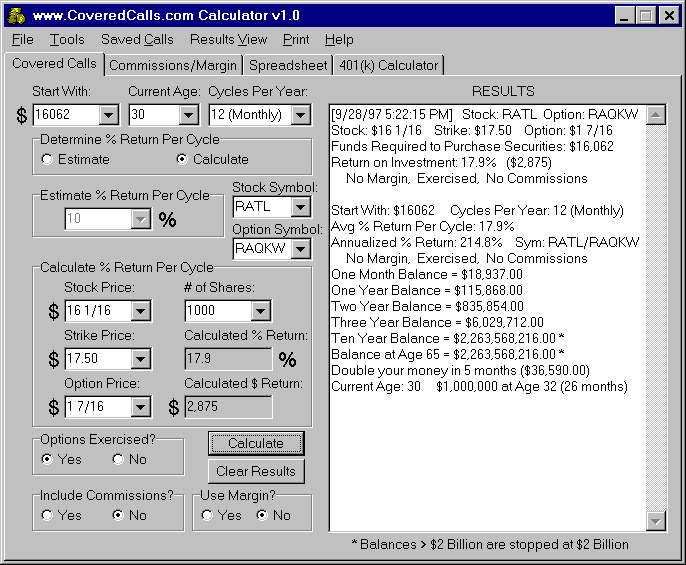 Free 401(k) Retirement-Planning Calculator using the same "intelligent comparative calculation engine" as the Covered Call Calculator.
Find out what your 401(k) balance will be at retirement including calculations for:
"Dollar Amount" or "Percent of Salary" contributions
Employer Matching Contributions (both "Match Per Dollar" and "Max Match %")
Beginning Rollover Balances
Annual Salary Raises
Eventual 401(k) compounded balance even if you stop investing before retirement